Our Professional Consulting Services
Consultations are performed upon request in the areas of mold testing, mold inspection, and indoor air quality needs. We provide networking with other companies steering your project in the right direction for solutions with indoor air quality when necessary.
Supervision and assessments of mold remediation projects for verification purposes to confirm a clean condition for normal fungal ecology. Provide a scope of work for mold removal projects or refer a certified industrial hygienist or indoor environmental professional when and where necessary.
Consulting services and network for indoor environment inspectors, air duct cleaning companies, cleaning,and property and facilities management companies, hotels, schools, daycare, nursing, homes, disaster restoration, mold removal companies, and real estate for buyer/seller inspections. We offer basement cleanouts if needed.
Mold Testing & Inspections (We do not remove or remediate mold, therefore we offer an objective viewpoint of your needs with no conflict of interest as an independent indoor environmental consultant. We do provide remediation supervision, the scope of site work, and oversight upon request.)
The Purpose of Sampling For Mold
If needed is to help establish whether elevated settled mold spores are present in a home or building environment. A thorough visual inspection is important along with sampling. The goal of remediation is to identify and correct the water or moisture problem. To remove the mold contamination, clean, treat where necessary, and restore affected and damaged areas of mold to a pre-existing 'condition 1' status as referenced in ANSI/IICRC S520 Mold Remediation. The underlying cause of the mold growth must be rectified or the growth will reoccur.
To find out if there is an inside reservoir, mold colony forming units, or source of fungal spores in an area in which human exposure is likely to occur. To determine whether there may be structural damage due to the presence of fungi, moisture, or dampness in the suspect mold areas of concern. Mold sampling can help locate the sources of indoor microorganisms and facilitate effective remediation when and where necessary.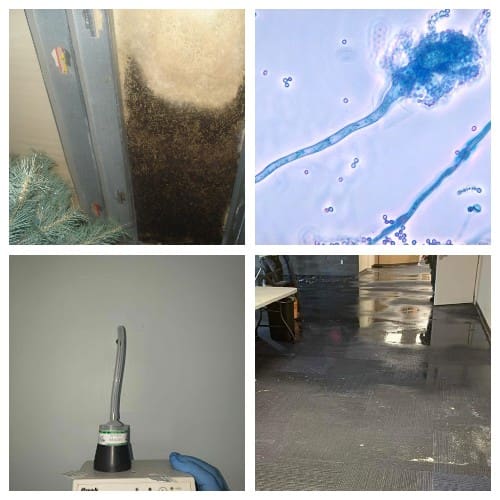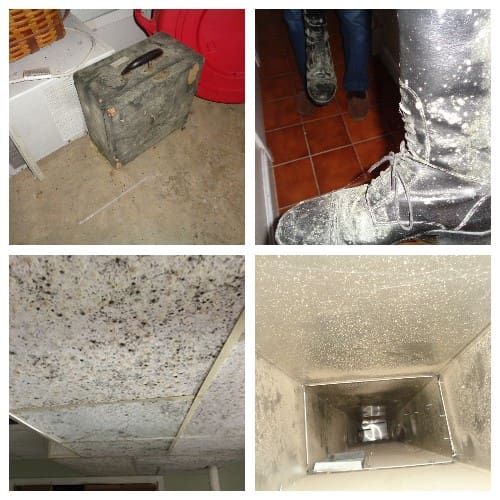 Post Remedial Verification Inspection‑Testing
The scope of this test is to determine if the mold remediation (removal) process and its removal are according to industry standard guidelines of IICRC S520. This inspection includes a thorough visual inspection with mold air sampling, wipes, swabs, and bio-tapes if necessary. Our trained technician has advanced certifications to conduct this scope of inspections.
Pretesting and Visual Inspections: This test consists of a mold screen and determines the areas that are viable or non-viable air sampling, swab, bio-tape, or bulk sampling in all areas of the home or office. We work with the company and our client to ensure that the goal of mold removal and cleanup is accomplished following industry standards and guidelines such as IICRC S520 mold removal. There are currently no federal or state standards when it comes to testing for mold in Massachusetts.
Specialized in real estate inspections for mold and sources of water intrusions. Being independent consultants, we offer an objective viewpoint that helps both the buyer and the seller of the property because we do not remediate mold. Mold infestation such in the attic roof plywood sheathing due to improper ventilation or no vents, floor joists, black mold caused by roof/flashing leaks, bathroom exhaust, moisture, ice damning, fascia board, wood rot/decay, basement and crawlspace areas. Finding and repairing the source of mold is important to a successful remediation project.

Professional Mold Inspection And Testing
There are several ways you can become exposed to Mold:
Breathing in the spores from the air. Tiny spores reproduce and are invisible to the naked eye and float through indoor and outdoor air (these fungi are called fruiting bodies).
Skin contact from handling or rubbing an object with mold on it.
Neglecting doing something about mold whether it is seen or unseen (musty odors).
Mold fungi feed off water, moisture, dampness, organic food source, and amiable temperatures.
Mold Can Cause Health Problems
Molds have the potential to cause health problems and even make a home become uninhabitable. Each person is affected differently when they come in contact with mold. Molds produce allergens (substances that can cause allergic reactions), irritants, and in some cases (mycotoxins: potentially toxic chemical substances). Removing drywall and wallboard with excess spores and carelessly can cause spores to spread.
Inhaling or touching mold or mold spores may cause allergic reactions in sensitive individuals.
Mold Exposure Even in Small Amounts May Cause
Itching or irritation of the nose, eyes, skin, or throat
Mysterious skin rashes
Sinus infections or congestion/sinusitis (runny nose)
Respiratory problems (sneezing and coughing) upper or lower infections
Frequent headaches, fatigue, chronic aches and pains
Trouble concentrating, memory lapses, confusion
Mood swings, anxiety, depression vomiting
Mold can be found in the home, office, business, medical, gymnasiums, basements, crawlspaces, attics, interior walls caused by water leaks, ice dams.
There are currently no governmental standards TLV's for mold testing.
Examples include:
Basements, crawl spaces, kitchens (bottom of fridge), bathrooms, laundry wash/dryer area
Underneath carpets and pads, tiles, flooring, subfloors, floor joists
Drywall (front & backside), hidden mold, wallpaper, paneling, studs
Ceilings, attics, floor joists (especially prior or existing roof leaks)
HVAC systems and duct work, vents registers, cooling coils
Anywhere there are preexisting or current flood moisture situations
Modern, tightly sealed homes can increase the likelihood of mold due to moisture and lack of airflow between wall cavities
Gyms and workout areas for mold, bacteria pools, steam rooms, saunas, exercise equipment, floor mats, etc. Unkempt locker rooms, showers
Thermal Infrared Imaging Camera Floods-Leaks-Heat Loss
Certified Flir Thermographer Building Envelope
Save on Energy Cost - Heat Loss- Air leaks
Identify why energy bills are more costly or higher than the usual cold air infiltration for drafts by doors, windows, and attics and vents in homes or buildings.
Locate missing insulation in hidden walls and ceiling, trace roof leaks, ceiling and wall leaks from water and ice dams which can cause mold problems. Drafts from unsuspected places from fireplaces, dryer vents, crawlspaces, basements, pipe stack effect, and chases.
Water Damage-Pipe leaks-Condensation-Floods-Disasters-Hurricanes and Storm Damage
Moisture Assessments - Identify significant temperature differential for hot and cold degrees and water infiltration due to pipe leaks, condensation build up to help find the cause of mold growth whether on the surface or hidden along with using other indoor air quality tools. Thermal infrared camera is not a "mold detector", but another tool to help identify such suspect problems for moisture intrusion using temperature differential.
Thermal infrared imaging camera optimization is a non evasive, nondestructive, cost-effective approach to help identify hidden problems from walls and floors such as defective radiant floor heat or broken pipes behind a wall in real-time data.
Thermal infrared camera is an excellent tool for property managers, facilities management, and real estate transactions for weatherization, disaster restoration, heat loss, mold inspections, and moisture mapping.